Twitter has taken action against the accounts of both Project Veritas and the organization's founder James O'Keefe.
The Project Veritas account has been suspended and none of the account's posts are currently visible. And while O'Keefe's account is still visible on the platform, it appears that some of his recent tweets are shown as "no longer available" and there have not been any tweets on the account on Thursday.
"WOW! Twitter has just LOCKED DOWN James O'Keefe's and the Project Veritas account for reporting on Facebook VP Guy Rosen and his statements that Facebook 'freezes' comments in places that algorithms think there 'may be' hate speech," Project Veritas wrote on Facebook.
Screenshots that Project Veritas shared in the Facebook post show messages from Twitter stating that the Project Veritas and James O'Keefe accounts ran afoul of "rules against posting private information."
"You may not publish or post other people's private information without their express authorization and permission," the Twitter notices state.
Facebook VP of Integrity Guy Rosen can be heard in a leaked video saying: "We have a system that is able to freeze commenting on threads in cases where our systems are detecting that there may be a thread that has hate speech or violence…These are all things we've built over the past three-four years as part of our investments into the integrity space our efforts to protect the election."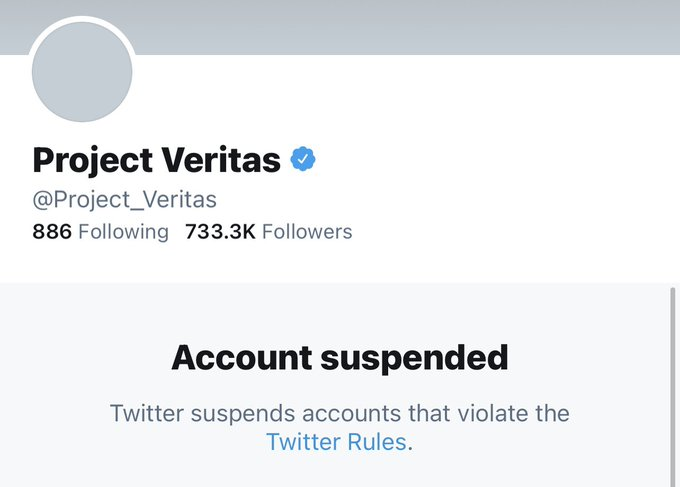 Project Veritas on Wednesday released a video showing its Senior Journalist Christian Hartsock asking Rosen questions outside of a home, but Rosen did not engage with Hartsock.
James O'Keefe showed in a YouTube video that Twitter had said that his Twitter account could be reinstated if he removes tweets that violated their rules, though he said that he plans to appeal instead.
"There's nothing in this tweet that violates private information," O'Keefe said. "Many reporters speak with people outside on the street, it's just what reporters do. So we're actually not going to delete this tweet yet because I think it would be unconscionable for me to have a different standard than the mainstream press. We're gonna actually appeal this decision. We think that Twitter has made a mistake. Reporters are currently reaching out to them for comment. Stay tuned."
Sen. Blackburn asks Biden admin why U.S. spending $284K per migrant family to keep them in hotels
"The cost to taxpayers for housing 1,200 migrant families for six months is about $71,000 per person," the Tennessee senator says.
Sen. Marsha Blackburn has done the math.
The Tennessee Republican's interest was piqued after the Biden administration announced its intention to spend nearly $87 million to house 1,200 foreigners who illegally cross the border in hotel rooms in the U.S.
"As the current contract stands, the cost to taxpayers for housing 1,200 migrant families for six months is about $71,000 per person," Blackburn wrote in a letter Homeland Security Secretary Alejandro Mayorkas and Immigration and Customs Enforcement acting Director Tae Johnson. "For a family of four, that amounts to a shocking $284,000 – enough to buy a small house."
Earlier this month, the administration awarded ICE an $86.9 million contract through Texas-based nonprofit Endeavors, which will provide hotel rooms near the border for temporary shelter. But Blackburn also questions how the group spends its money.
She said Endeavors in 2018 collected more than $38 million in contributions and grants but noted that "IRS filings show that nearly $22 million or almost half of those contributions went to salaries."
"This raises questions if half of the $86.9 million in ICE contract proceeds will likewise be allocated toward employee and executive compensation instead of migrant services or housing," Blackburn wrote in her letter.
She also expressed concerns that Endeavors' CEO Jon Allman has not provided "specific details about the contract."
"It is unclear whether this nonprofit has ever previously managed a contract of this magnitude, housed a migrant population of this size or served vulnerable children without putting them at further risk," Blackburn wrote. "DHS and ICE must provide commitments to assure Congress and the American public that Endeavors is up for the task of securely and efficiently housing illegal immigrants without resulting in waste or abuse of taxpayer dollars, or worse, harming vulnerable migrant children."
Blackburn asked for answers by April 15.
Trump website 45Office.com has been launched
"The Office of Donald J. Trump is committed to preserving the magnificent legacy of the Trump Administration, while at the same time advancing the America First agenda," a statement on the website homepage reads.
The website of the office of former President Donald Trump has launched online and includes forms for people to submit correspondence, greeting requests, media inquiries and scheduling requests for Trump and former first lady Melania Trump.
"The Office of Donald J. Trump is committed to preserving the magnificent legacy of the Trump Administration, while at the same time advancing the America First agenda," a statement on the website homepage reads. "Through civic engagement and public activism, the Office of Donald J. Trump will strive to inform, educate, and inspire Americans from all walks of life as we seek to build a truly great American Future. Through this office, President Trump will remain a tireless champion for the hardworking men and women of our great country – and for their right to live in safety, dignity, prosperity, and peace."
The website includes biographies of Trump and his wife. The beginning of the former president's biography says that he "launched the most extraordinary political movement in history, dethroning political dynasties, defeating the Washington Establishment, and becoming the first true outsider elected as President of the United States."
Trump announces his and Melania's official website is up: https://t.co/760WlWlhV4 pic.twitter.com/VhxRssMH3C— Kristina Wong 🇺🇸 (@kristina_wong) March 29, 2021
New Cuomo accuser alleges she was forcibly kissed, claims to have evidence
The woman alleges governor kissed her in "a highly sexual manner."
Aninth woman has come forward with allegations of sexual misconduct against New York Gov. Andrew Cuomo, alleging that the Democrat grabbed her face and kissed her without her consent.
But this allegation is different: The woman, Sherry Vill, a 55-year-old married mother of three, has photographic evidence.
Vill says the incident occurred while the governor was "touring her flood-damaged home in 2017 – saying he did so in a 'highly sexual manner,' " The New York Post reported.
In a press conference Monday, Vill was accompanied by her lawyer, Gloria Allred, who displayed a photo of the kiss.
Vill, whose home was damaged by the flood, recounted the incident, saying she invited Cuomo in.
"That's when the governor looked at me, approached me, took my hand and pulled me to him," Vill said. "He leaned down over me and kissed my cheek. I was holding my small dog in my arms in my arms and I thought he was going to pet my dog. But instead he went to squeeze between the dog … and kiss me on the other cheek in what I felt was a highly sexual manner."
Cuomo sought to explain himself, she said. "He said, 'That's what Italians do, kiss both cheeks,' "Vill said. "I felt shocked, and didn't understand what had just happened. But I knew I felt embarrassed and weird about the kissing. I am Italian, and in my family, family members kiss. Strangers do not kiss."
On his way out, Cuomo ""stopped, he turned to me and said, 'You are beautiful,' " Vill said.
Earlier this month, Anna Ruch, a former Biden 2020 campaign worker, told The New York Times that the governor made unwanted sexual advances toward her after they met at a wedding in New York City in 2019.
She also accused Cuomo, 63, of kissing her without her permission, even as she tried to pull away. Ruch said the encounter left her "confused and shocked and embarrassed."
Another accuser, Charlotte Bennett, a former Cuomo aide, alleges that the governor inquired about her sex life and asked her whether she would be amenable to a relationship with an older man.
And another former aide, Lindsey Boylan, said Cuomo "made inappropriate comments about her appearance, kissed her without her consent at the end of a meeting and once suggested they play strip poker while aboard his state-owned jet," the Associated Press reported.
Five more women have made similar allegations. The eighth woman to accuse Cuomo said the governor groped her last year at the Executive Mansion after she had called there to do some work. She said she was alone with the governor in the mansion when he "closed the door and allegedly reached under her blouse and began to fondle her," a source told the Albany Times Union.